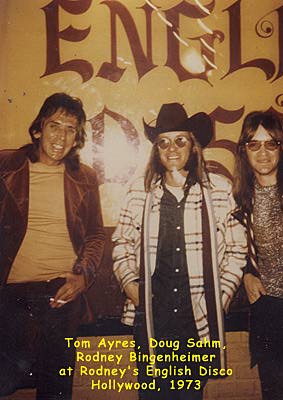 Rodney B burst into hollywood in 1965, he became a trendsetter and a premier socialite of the strip, actor Sal Mineo became the first to call him "The Mayor Of Sunset Strip", a nickname that would go on to stick for the next 40 years.

Rodney became close friends with the biggest and best names in the biz.

Lyrics to the GTO's Song Rodney off there Permanent Damage album:

We Have a friend named Rodney Bingenheimer
He has a dutchboy hair-cut and he's five feet three
He lives down the street from the Hullabalooo
And he doubles for Davy Jones
(He got beaten up by Brian Jones)
He's so amazing you should see his walls
It just screams "Get in there with the pop-stars!"
RODNEYS VOICE:
"Let me in, let me in, I'm with one of the Vanilla Fudge
I know Sonny and Cher
I meditated with George Harrison
The Hollies are my best friends
and I ate lunch with Grace Slick yesterday."
We see you at music city and down at The Ranch Market
Waiting for pop stars to casually stroll by
Oh, Rodney, if you introduce me to Mick Jagger
I'll let you meet my little sister
And she's only twelve years old!

Rodneys first job in show biz came as being a double for Davy Jones on The Monkees Tv Show, however, his first job in music was when he was hired by Nik Venet to do publicity for Linda Rondstadt's group The Stone Poneys.

After awhile Rodney became tired of the California hippie scene and packed his bags and moved to London where he discovered the emerging Glam Rock and became friends with artists such as David Bowie and Rod Stewart.

Bowie and Bingenheimer became close and Bowie suggested that he open a club of his own. It was originally called the E Club, and it opened October of '72 at 8171 Sunset, and bowie was one of the clubs first guests.

The club was then moved to 7561 Sunset (a more popular part of the strip and was renamed Rodney Bingenheimers English Disco.

Right after opening it became a hit club and a favorite hangout for rockstars and groupies. English Disco is one of the main reasons glam rock made it in the US in the 70's.
Bowie later went on to say

"Alone in LA, Rodney seemed like an island of English 'nowness'. He even knew British singles and bands that I wasn't aware of. Rodney singlehandedly cut a path through the treacle of the Sixties, allowing all us 'avants' to parade our sounds of tomorrow dressed in our clothes of derision."

On occasion these glam rock bands would perform there, bands such as The Stooges, New York Dolls,
-and it was here that Iggy Pop staged his infamous concert on 11 August 1974, during which he performed an improvised 'play' called "Murder of the Virgin" (in which he was whipped by guitarist James Williamson who was dressed in a Nazi uniform) and which climaxed with Iggy repeatedly slashing his chest with a knife.-wikipedia.org

The club eventually closed in '76 due to differences between the owners.

After this Rodney used his connections and got a job as a DJ at KROQ, a station not very known at the time, he got his on show on it though called Rodney On The Roq. The show started in August of '76 and still runs, although now Rodneys time slot is a sad late night show every Sunday (a complete disgrace).

Rodney never played what was popular in the US but created what was popular in the US, playing bands such as The Runaways, Blondie, The Ramones, Social Distortion, Van Halen, Duran Duran, Oasis, The Donnas, No Doubt, Coldplay, Dramarama, The Go-Go's, The B-52's, X, The Vandals and many others first!

Bingenheimer is one of the very few DJs on commercial radio in Los Angeles who has autonomy over what he plays.

Rodney continues to have some control over the airwaves and what they play, taking chances on unknown artists. A Film, The Mayor Of Sunset Strip was released documenting the life of Rodney. He also received a star on the hollywood walk of fame in March of 07.
Any stuff you want to donate to the site is greatly appreciated and welcomed! Photos, Information, etc on people, places things. Even if you want to share your personal experiences, all is great!