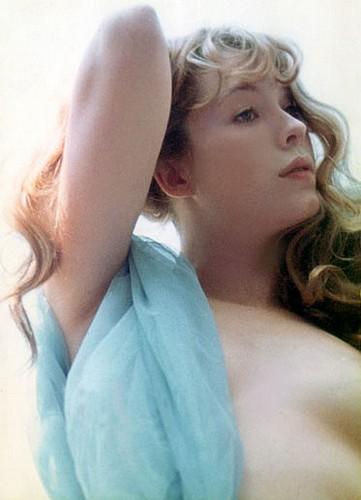 Pamela Des Barres was born as Pamela Ann Miller on September 9th, 1948 in Reseda, California. Her days as a music fanatic started when she would watch Elvis Presley thrust his hips on TV as a child. She still has vivid memories of squinting her eyes in grief as she watched Elvis get his head shaved for the army. She also idolized Dion, carrying around a lock-it with a photo of him in it, but it wasn't until she heard The Beatles that she fell in love with Rock N Roll music. She idolized Paul McCartney, he was even the first man she fantasized about.

She was then introduced to the dirty music that was Rolling Stones, and that was that, she let her hair down. The same person that opened her mind up more musically, a person who also had been the first to alter the way she thought, Victor, introduced her to her first rock star, his cousin Don Van Vliet, better known as Captain Beefheart, a musician and friend of Frank Zappa. Vliet in turn introduced her to Charlie Watts and Bill Wyman of the Rolling Stones, when they came in town, that same night she waited outside Micks hotel room door only to catch a glimpse of him in his underwear. Loving the Rock N' Roll lifestyle Pamela hung around the strip scene in California, only going to the hippest sports. She started to spend her time with The Byrds and other bands, and developed a large obsession with Chris Hillman, even sleeping in his hammock when he was out of town, She graduated from high school in 1966, and took various jobs that would allow her to live near the Sunset Strip and pursue relationships with rock musicians. She famously paired up with Jim Morrison, Mick Jagger, Jimmy Page, Keith Moon Nick St. Nicholas, Noel Redding, Chris Hillman, Waylon Jennings, and actors Brandon de Wilde and Don Johnson.

Along the way she had made a close group of girlfriend whom she traveled everywhere around the strip with, creating havoc, one of them introduced the rest to Frank Zappa who created a group of them, originally calling them the Laurel Canyon Ballet Company, he then changed there names to The GTOs, an all-girl singing group. The began to perform and open for zappa at places like the Shrine Auditorium. They released an album, Permanent Damage in 1969, backed by Zappa, Jeff Beck, and Rod Stewart and also featured vocals in spoken word from Rodney Bingenheimer. The group dissolved a month after the album's release because some of its members were arrested for drug possession, something Frank was highly against.

In the 1970s Des Barres decided to pursue a career as an actress, and acted in a few movies, including Zappa's 200 Motels, commercials, and a year acting on the soap opera Search for Tomorrow in 1974. After a downturn in her acting career she went to work as a nanny for Zappa's children, Dweezil and Moon. A job fellow GTO member, Miss Christine had previously had.

On October 29, 1977, she married Michael Des Barres who had been lead singer for Detective (the first band signed to Led Zeppelin's Swan Song Records label), Silverhead, and, briefly, for Power Station. They had a son together, Nick, but eventually divorced in 1991.

Des Barres wrote two books about her experience as a groupie, I'm with the Band and Take Another Little Piece of My Heart: A Groupie Grows Up, as well as two non-fiction books, Rock Bottom: Dark Moments in Music Babylon and Let's Spend the Night Together: Backstage Secrets of Rock Muses and Supergroupies

Des Barres currently writes articles for online and print publications. She has also become an ordained minister and performs weddings. She has appeared in numerous TV specials speaking about the music lifestyle and also has been quoted in many books, magazines, and websites. She, on occasion, does a creative writing class. She is in a very close relationship with Country musician, Mike Stinson. She is also a breast cancer survivor.